When Chinese people travel abroad — for instance to Vietnam — most of the locals can't speak English or Chinese. It might not be too different than the experience of English-speaking foreigners coming to China, who cannot speak Chinese. For this we developed this list of basic Chinese words to be used in travel or survival situations. Trust us, these 20 words are going to help you be friendly and get around in China.
Twenty survival basic Chinese words
Yes and no in Chinese
There is no actual equivalence like yes or no in Chinese, but "对" and "不" come close. "对" means "correct" and "不" is a negative word added before a word.
"I don't want"
People will want to sell things to you when you look like a tourist, so this is the word you need to decline.

Saying hello in Chinese
Remember do not pronounce the "how" too completely, but short and firm. Click here for more greetings in Chinese.

To say thank you in Chinese
Exhale slightly while pronouncing both syllables.

Sorry in Chinese
Say it quickly, non-stop. Click here for even more ways to say sorry in Chinese.


Basic bye-bye in Chinese
The last syllable is said without pause.

How much does this cost?
"钱" means money in Chinese and "多少" is asking for an amount.

Asking for the bill
Since the second syllable is in the first tone, the second syllable should have a consistently slightly higher tone.
Ordering basic meat
"肉" is the general word for meat, add a word which means an animal before it, the new word becomes the meat of a certain animal. So you may have guessed: "鸡" means chicken, "牛" means cow, and "猪" means pig.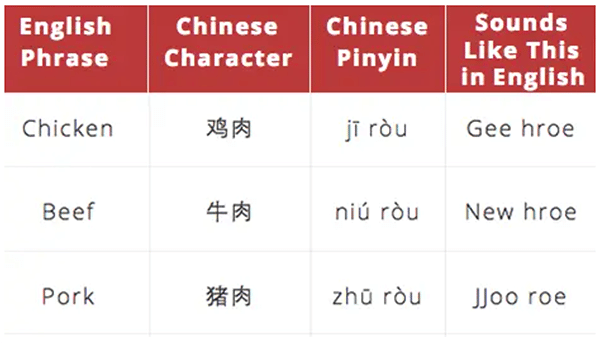 Ordering basic vegetables in Chinese
Notice that the pronunciation of cài doesn't involve a hard C sound!

Ordering rice
In southern China, we eat "饭" three times a day.

Ordering noodles
People in the northern part love it. You have to try the special ones in Beijing, Xi'an, and Henan!

Coldwater
You are served with hot water in China if you don't ask for "冰水". The B in bīng sounds almost like a P sound that isn't aspirated.

Complimenting in Chinese
It is the same all around the world that people like to be praised and appreciated. So take care and make sure you learn these well!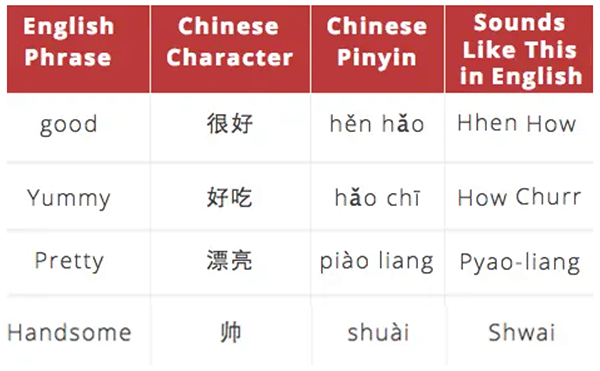 ---
Some things to know:
Chinese Hanzi characters are the writing system the Chinese use, and they will be the ones you will see on signs or menus.
Chinese pinyin is a system to help people understand how to pronounce Chinese characters. You might see it on some signs together with Chinese characters.
We hope that helps you learn these basic phrases and words in Chinese for survival and travel situations! Of course you are welcome to join GoEast Mandarin's online Chinese courses for further learning, or check out our YouTube channel. Becoming fluent in Chinese doesn't take a lifetime.