We're going to share something that can help you to find the perfect fit for your Chinese learning journey.
No matter you are looking for a teacher or you've been learning with a teacher, the following tips will help you to make it out.
Why do you need to choose the right chinese teacher?
First comes the reason why you need to choose the right teacher.
I'll take my own learning experience of learning Japanese as an example.
At that time, the problem for me was not I could not find a teacher, but that there were too many options for me. There were a lot of Japanese schools in Shanghai, which one could I go to? There were so many self-learning apps and tips online, which one could I follow? And there were thousands of teachers on different learning websites. All of them seemed to be professional and experienced. Did they all help me?
After trying some lessons with different teachers from different apps, websites or local schools, I found that there were so many good teachers teaching Japanese from all over the world. They were professional, experienced and knowledgable. But as a learner who did not have much time and was not confident to talk with native speakers, some teachers who helped many other students could not really help me improve or gain confidence.
What I found was: A teacher who is good may not necessarily be the right fit for you.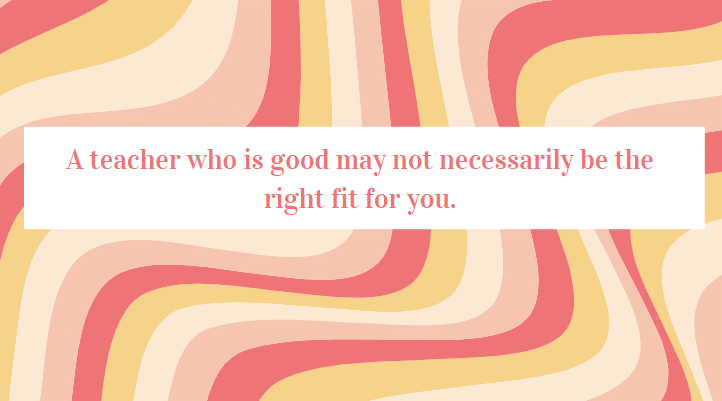 Good is for common situations, but right is more for you.
So if you want to improve effectively, you need to find the right teacher rather than stop with a good teacher.
What is the right teacher
The key point is: your needs and feelings matter more than their certificates or experience.
If it were years ago, I would immediately try to convince you that learning Chinese characters is important for your long-term learning and is good for you to know more about Chinese culture blabla… but later I realized that I don't even ask why my student didn't want to learn it.
So we always tell our teachers: if your students tell you they want or not want to do something, ask why they think that and ask if they need your help. The point is that we teachers can help students reach their learning goals, but not to force them to take the path we are proud of but not suitable for them.
Students sometimes might feel like they don't want to learn Chinese because something terrible happened.
If teachers hear students complain about not being in the right state of mind, they would worry about not being able to complete teaching tasks on schedule.
But in my view, if teachers fail to consider students as the main body of learning, no matter how hard they work, they can not achieve teaching goals.
So we often advise teachers to listen to what happened to their students if they say they are not in the mood for learning. And we also make our teachers know that learning is a long-term process, so no rush and no push.
After listening to my introduction, you may think that a right teacher is someone who can laugh with you. However, some students feel frustrated after studying for months or even years. Despite liking their teachers, they are disappointed in themselves.
I must say that a teacher who can make you laugh is definitely a likable teacher. However, the right teacher is more than that.
We advise teachers to listen carefully to students' needs, pay attention to the problems they encounter during the process, and provide timely and targeted feedback to help students set and achieve the goals that are most suitable for them.
Learning is not full of laughter but also pains. The right teacher can help you find your weakness and help you overcome it.
How to choose the right Chinese teacher
Step 1: Figure out what you really need
Step 2: Take a trial class
Step 3: Express your needs to your teacher
Step 4: Give feedback to your teacher
Step 5: Evaluate the class
Figure out what you really need
Here is the framework that can help you figure out what you really need when you start learning Chinese.
| Aspect | Motivation | Aim for | Skills Required | Devote Time | Learning Attitude |
| --- | --- | --- | --- | --- | --- |
| Figure out what you really need | Internal or External | General Purpose or Special Purpose | Reading/Writing or Integrated or Listening/Speaking | Have no time or Have a lot of time | Quick Look or Try Hard |
Let your teacher know your needs and then you can set an appropriate learning plan together.
Take a trial class
During a
trial class
, you should care about both your emotional feelings and your rational thoughts.
You can ask the questions below to yourself:
Do you feel enjoyable and comfortable in class?
A pleasant learning atmosphere would help you learn Chinese more effectively. Don't ignore your instinct.
Do you feel your needs are met?
Use your reason to think about your needs.
You can make use of the framework above to check if the teacher cares about what you need and what you prefer, and check if they made any adjustments to the class to meet your needs.
Do you speak more than your teacher?
It's essential for a teacher to let students open their mouth more than teachers, even during a reading class, because students are the main body of the learning process.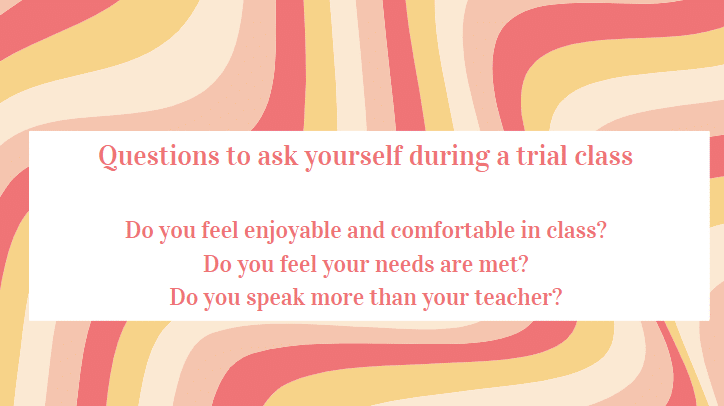 Teachers in a class should act more like a coach or a guide. They need to give you enough chances to practice what you learned instead of keeping explaining.
Therefore, pay attention to the "Student Talking Time". If the teacher can help you to express yourself more, you will use the language more fluently.
Express your needs to your teacher
Communication is the best way to adjust to the class quickly.
A right teacher will keep open minded, and they would know everything is in change all the time. So it's quite normal that your needs will change, especially for who just started learning for the first time. Feel free to tell your teacher if you changed your mind, and they will listen to you and help you make a good decision.
Step 4: Give feedback to your Chinese teacher
Someone may feel sorry to give feedback because it seems like we're judging the teacher.
In fact, students' feedback will definitely help teachers to improve their teaching skills, and will help both of you have a better experience in your Chinese class.
We can divide feedback into two types. One is positive and the other is negative.
It would be much easier to give positive feedback, like expressing your thanks or likes to your teacher.
As a teacher, I would like to hear what my students like from my class, and I would feel motivated to keep it and make it better.
On the contarary, I bet many people would feel hard to give negative feedback. But for a teacher, sometimes they help us more than the positive ones. Because I can figure out what I ignored and make it up.
I still remember my first student who denied to take lesson with me after our first lesson. Later I knew it was because that he felt quite stressed after my pronunciation drills. TBH I was frustrated at first, but I did feel grateful to know about it. Since then, I turned to pay attention to students' reaction, and figured out that it was because they were not used to using the muscles in their mouths to pronounce Chinese.
If you don't want to make your teacher feel bad, here are some tips: Before giving any negative feedback, start by expressing gratitude for your teacher's hard work and dedication. Let them know that you value their efforts and that your feedback is meant to help them improve even further.
If you don't want to say that in person, you can ask others for help, such as your language consultant. They will help transfer your feedback to your teacher to help improve the class.
Step 5: Evaluate the class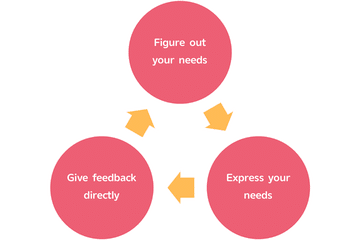 The steps above are not only useful for trial lessons, you can take the steps for your whole learning journey, and then you can help keep on track.
In conclusion, the journey of finding the perfect Chinese teacher is one that requires careful consideration and self-reflection. By understanding your motivations, setting clear goals, and identifying the specific skills you need, you'll be well-equipped to make an informed decision.
Whether you're yearning to master general communication or have a specialized purpose in mind, the right teacher is out there waiting for you.
Click here
now to take the first step towards finding your ideal Chinese teacher. Your language learning adventure awaits!