Skritter is a very suitable app for foreigners to learn Chinese Hanzi characters. It is easy to use and rich in content. You can choose the content of Chinese characters to learn according to your own level. Time to review Skritter.
We've review Skritter for Chinese characters with a subscription for Android (from an APK), but it's also available from the Google Play Store, and the Apple Store. You can also use Skritter in your browser, but we focus on smartphones here. Plus, there's also a Skritter for Japanese characters, but we know nothing about that.
How to learn Chinese characters with Skritter
When you open the app you're asked if you want simplified or traditional Chinese characters, and you can browse into Decks. Your own Library will be empty, but you can go to decks that Skritter has made for you. On one glance, we see decks on several topics, from Animal Crossing to infidelity, from Covid to dinosaurs.
We pick ordering coffee because that's more useful for daily life, even though we love dinosaurs. Other useful daily topics we immediately see are gyms, yoga, taking a taxi, and provinces of China — as well as the HSK words separated per level.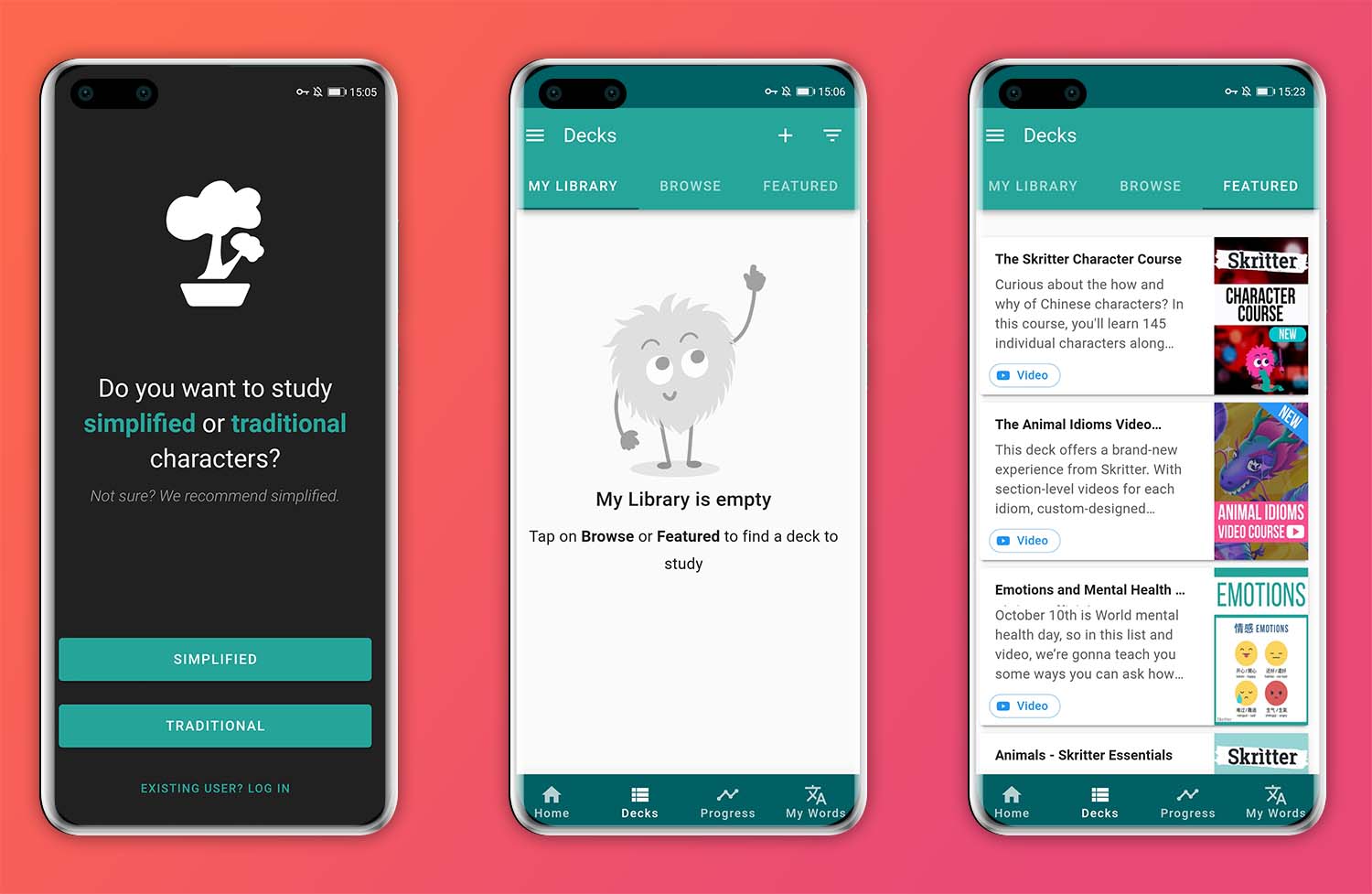 When you open the deck, there are several topics. With HSK levels, those topics are simply words from 1 to 10, 11 to 20, 21 to 30, etcetera. But with coffee, they're categorized from beverages, order preferences, specials and deals.
Inside you'll find all the Chinese Hanzi characters. First it opens with info card on the character, with components of the character, and you can play a sample sentence. After that you can practise drawing the Chinese character, and this is where Skritter really comes into force. It sort of recognizes the strokes you make on your smartphone screen, and slots those strokes onto a grid if you did it in the right order and direction.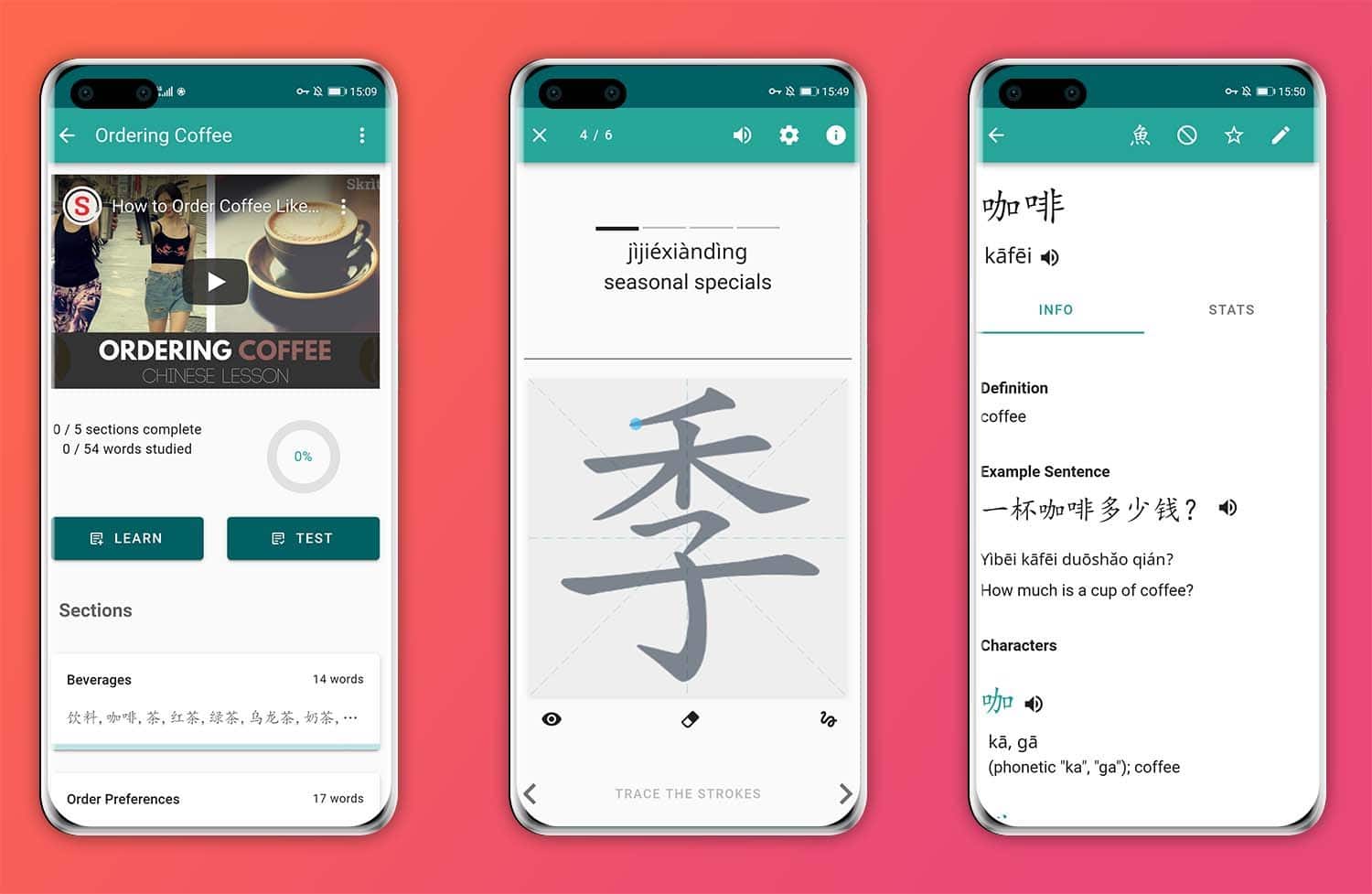 Apparently, Skritter has over 12,500 of such lists, a boggling number. You can memorize through flashcards, write Chinese characters yourself, and there are other functions we didn't even try out yet.
Practicing Chinese characters
It's actually a nice exchange from writing Chinese characters on paper over-and-over again. Skritter starts from the stroke order of Chinese Hanzi characters and uses this way to help students memorize Chinese characters on the basis of guided writing. After that, you can practice Chinese characters on your own without a guide.
These two parts combined definitely test your cognitive ability to memorize Chinese characters. If there is a mistake, it can be repeated by double-click, so that you can have a strong memory of Chinese character structure and stroke order. You can also get a hint if you're stuck.
More than characters
A character's meaning
Skritter correctly identifies that there's more to characters than just the characters themselves. They provide the meaning in English, and also a sample sentence. In tests, you'll be asked about the meaning of the Chinese character, which is a great asset.
Pinyin pronunciation
Pinyin is another aspect of each character. After knowing how to write and what the meaning of Chinese characters is, you need to know the correct pronunciation. After clicking on the screen, there will be pronunciation options. you need to choose whether they are correct or not, and use small tests for voice training. At the same time, the writing process will cooperate with the voice output, and can read and write at the same time. After choosing the correct Pinyin, you can confirm whether you read it correctly through tone test, which helps you to remember the correct pronunciation and Pinyin spelling.
Skritter review
Of course, relying on an app to learn Chinese characters can provide great help for your Chinese character learning. The best way to memorize Chinese characters is to practice over and over again. Skritter does this — and it's a welcome addition to paper. What's nice is the feature that you can save characters or tick them off as 'learned'. It's not a silver bullet to learning Mandarin fluency, but it's a great tool for characters.