Here are some Chinese online buzzwords for you. They're especially used online and by young Chinese people. Note that some of these words were used before, but here we specifically focus on their newly-earned meaning. Learn to use these Chinese phrases from the real world with this list:
2021 Chinese buzzwords
Lying flat
Lying flat (躺平tǎngpíng) is kind of the opposite of internal competition (内卷 nèijuǎn), a popular buzzword last year as well as this year. These two represent the two states in which modern young people compete with others at work & in life.
Internal competition (内卷nèijuǎn) refers to the process in which all competitors make more and more effort to outdo each other, but the process itself is meaningless.
Sometimes we could hear Chinese use 卷 to describe a rat race, or call somebody too "卷":
他太卷了
Tā tài juǎn le
He works so hard (and it's unnecessary)!
Or:
大家都卷,我也卷
Dājiā dōu juǎn, wǒ yě juǎn
They all try their utmost, and I do too
In contrast, laying flat is a situation where competitors choose to give up under competitive pressure:
卷不动了,我躺平了
Juǎn bùdòng le, Wǒ tǎngpíng le
I don't want to strive anymore, I give up
It can also be used like this:
这个周末打算什么?
Zhège zhōumò dǎsuàn shénme?
What are you planning for this weekend?
只要躺平
Zhǐyào tǎngpíng
Just lie flat
Breathtaking
There are two situations you can use 绝绝子Jué jué zi (绝Jué). These two words have no difference, just express your compliment or speechless feeling to something or someone.
Compliment:
这家餐厅绝绝子
Zhèjiā cāntīng juéjuézǐ
This restaurant is so good
这家的菜绝了
Zhèjiāde cài juéle
The food here is so nice
Speechless:
他做事一点都不认真,报告都写错了,真绝
Tā zuòshì yìdiǎn dōu bú rènzhēn, bàogào dōu xiě cuò le, zhēn jué
He didn't work carefully at all, he wrote wrong reports, really speechless.
我都不知道该对他说什么了,绝绝子
Wǒ dōu bùzhīdào duì tā shuō shénme le, juéjuézǐ
I don't know what should I say to him, speechless
YYDS
YYDS is an abbreviation for "永远的神 yǒngyuǎn de shén", expressing high admiration and worship for someone. It's similar to the English expression "The G.O.A.T", meaning "the greatest of all time". In Chinese, it literally means "Always the God".
Sample sentence:
Victoria老师 yyds!
Victoria lǎoshī,yyds!
Teacher Victoria, you're the best ever!
See the origins of YYDS here.
Emo
Emo refers to a bad emotional state, depression after a stressful or unexpected event. Emo is a music & fashion style in the West, and the Chinese meaning is similar but doesn't come from emo(tional), but rather from "我e个人momo地哭Wǒ e gèrén momo de kū (I'm crying secretly, alone)."
Sample sentence:
我emo了
Wǒ emo le
I feel so blue
Broken defense
2021 was a stressful year for Chinese citizens, looking at the buzzwords. A similar word to emo is 破防Pò fáng, which literally means 'broken defense'.
破防 consists of two characters:
破pò is to break, like 我的衣服破了Wǒ de yīfú pòle (my clothes are torn)
防 is from 防御Fángyù (defense)
This is an expression of someone who has his own values, which is like defense or ideology to understand something. But when some things happen, which are not in accord with values they have, so it is broken.
Example sentence:
看到这个,我瞬间破防了
Kàn dào zhège, wǒ shùnjiān pòfáng le
Seeing this, my defense has broken
Or:
他是我的偶像,他怎么可能有这样的行为,我破防了
Tā shì wǒde ǒuxiàng, tā zěnme kěnéng yǒu zhèyàng de xíngwéi, wǒ pòfáng le
He is my idol, how could he behave like this, I broke my defenses
Double reduction
双减 (shuāngjiǎn) means 'Double reduction' and in 2021 this referred to the reduction of the burden of heavy homework and off-campus training for students in China.
Many Chinese parents start to enroll their kids in after-school training institutions from a very young age, so that their kids get ahead of their classmates. The new law forbids many types of after-class training, and also advertising for it.
Because of this policy, China's huge training institutions are facing transformation, and many training institutions have gone bankrupt. Many people believe that the double reduction policy will give Chinese children a happier childhood.
What is a happy planet?
什么是快乐星球 shénme shì kuàilè xīngqiú (What is a Happy Planet?) is a lyric from a Chinese TV program. The song was used as background music for many short videos in 2021. Bloggers on many platforms also sang the song and the lyrics, which stuck in the public mind and became a buzzword.
Want to get it stuck in your head too? Listen to the song here.
Metaverse
The metaverse was first mentioned in the 1992 novel Snow Crash, made popular by the movie Ready Player One, and popular in China this year when Facebook's Mark Zuckerberg (who speaks Mandarin pretty well) renamed the mother company into Meta. Chinese internet companies such as Alibaba and Tencent followed suit by registering names and logos for the metaverse as well.
Many people are also analyzing and responding to this metaverse trend, wondering where the future will take them.
The Chinese word for metaverse is 元宇宙 yuán yǔzhòu. 元 usually means 'first' or 'start', but here 元 is 'meta'.
Sample sentence:
元宇宙模拟的平行世界中,我们能身临其境体验到各种街景建筑等.
Yuán yǔzhòu mónǐ de píngxíng shìjiè zhōng, wǒmen néng Shēnlínqíjìng tǐyàn dào gè zhǒng jiējǐng jiànzhú děng.
In the parallel world simulated by the meta-universe, we can experience various streetscape buildings and so on.
Or:
你打过元宇宙的游戏吗?
Nǐ dǎguò yuán yǔzhòu de yóuxì ma?
Have you played VR games?
Social cow
社交牛逼症 shèjiāo niúbī zhèng is the opposite extreme of social phobia (社恐Shèkǒng), and refers to people who enjoy displaying their charm in public or with people they don't know. These people have these characteristics:
Don't care what other people think about themselves.
Easy to get to know people and talk to anyone.
Not afraid of being laughed at, not timid.
Sample sentence:
Lynn真有社交牛逼症
Lynn zhēnyǒu shèjiāo niúbī zhèng
Lynn is really social
Food chugger
One way to say foodie in Chinese is 吃货Chīhuò. 干饭人Gānfàn rén is like a foodie but fundamentally different. Whereas a 吃货 cares about taste and experience, a 干饭人 is usually someone who works hard in an office and has little time to eat, and just cares about getting her or his stomach filled with as much as possible, for a low price.
It is a humorous way to describe busy office workers with positive attitudes who don't have time to sit around for a long meal!
Example sentence:
干饭人吃饭得用盆
Gānfàn rén chīfàn děi yòng pén
Feasters should use bowls to eat
Buzzwords of 2020
Versailles
The '凡尔赛fán'ěrsài' Chinese language buzzword isn't actually used to describe the palace in France, but people who match Louis XIV's sense of vanity and sense of narcissism.
Sample sentence:
什么鬼,别再成为凡尔赛宫和自拍照了。 帮我搬这行李,好吗?
Shénme guǐ, bié zài chéngwéi fán'ěrsài gōng hé zìpāi zhàole. Bāng wǒ bān zhè xínglǐ, hǎo ma?
What the hell, stop being Versailles and taking selfies. Help me carry this luggage, will you?
This is also commonly used for '凡尔赛文学': Versailles literature. Books or articles that drone on and one, or that are too elitist:
我昨天的约会,我不知道他在说什么,他只是在说凡尔赛文学的话。
Wǒ zuótiān de yuēhuì, wǒ bù zhīdào tā zài shuō shénme, tā zhǐshì zài shuō fán'ěrsài wénxué dehuà.
My date yesterday, I had no idea what he was saying, he was just speaking Versailles literature.
Livestreaming delivery
Livestreaming on Taobao, JD, Douyin or any other of thousand apps got more popular because of the coronavirus, so these actions will inevitably enter the Mandarin Chinese language. '直播带货Zhíbò dài huò' refers to live streaming in general or over-use of selfies.
Example sentence:
今年直播带货太火了,我脑子里一直是李佳琦的OMG买它买它买它!
Jīnnián zhíbò dài huò tài huǒ le, wǒ nǎozi lǐ yīzhí shì Lǐ Jiāqí de OMG mǎi tā mǎi tā mǎi tā!
The live streaming is too popular this year, I always have Li Jiaqi's OMG to buy it, buy it, buy it!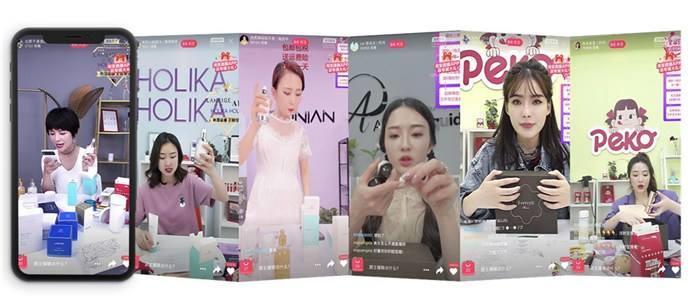 Opposite direction walker
逆行者Nìxíng zhě means someone who walks in the opposite way, but it refers to someone who takes extraordinary measures to help others, such as medical workers worldwide during the corona pandemic. If you think the name is weird: think about a burning house. Everybody's running out, but a 逆行者 will run into it, trying to save people.
Example:
2020年,医生和护士是最美的逆行者,为他们点赞!
2020 nián, yīshēng hé hùshì shì zuìměi de nìxíng zhě, wèi tāmen diǎn zàn!
In 2020, doctors and nurses are the most beautiful Opposite direction walkers, praise them!
An image to praise medical workers: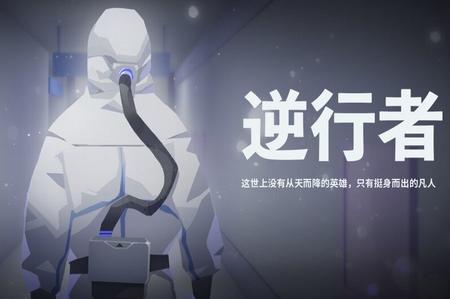 Spirited
飒Sà — the sound of the wind — means elegant or spirited, especially when used to describe women:
她开一辆法拉利,样子太飒了,在我的联盟之外。
Tā kāi yī liàng Fǎlālì, yàngzi tài sàle, zài wǒ de liánméng zhī wài.
She drives a Ferrari, and her looks are too elegant, she's out of my league.
Green tea bitch
'绿茶婊Lǜchá biǎo' generally applies to women who — in the eyes of the people who use this word — gain fame and fortune by their good looks; pure and refined appearances, always happy or overly dramatic in public, harmless to anyone. Yet beneath the surface is an evil person — or just annoying in general.
Example sentence:
我最讨厌装柔弱博同情的女生,女生一看她就知道是绿茶婊,可是男生很多时候却不知道。
Wǒ zuì tǎoyàn zhuāng róuruò bó tóngqíng de nǚshēng, nǚshēng yī kàn tā jiù zhīdào shì lǜchá biǎo, kěshì nánshēng hěnduō shíhòu què bù zhīdào.
I hate girls who love to pretend to be weak and sympathetic. Girls know that they are green tea bitches at first glance, but boys often don't know.
Yet be warned; it is a discriminatory term, and critics believe that the term is stigmatizing women.
A more extreme version of a green tea bitch is a 'tea master (茶艺师) — a buzzword on top of the buzzword.
See our YouTube video, Beyond Class Bitchy.
"715″
One of the top searched words on Baidu this year — and more frightening than 996 — is 715. The CEO of a restaurant chain boasted that his employees work 15 hours per day, 7 days a week — which wasn't received with much admiration online.
Sample sentence:
今天我的老板开玩笑说我们要工作715。吓死我了。
Jīntiān wǒ de lǎobǎn kāiwánxiào shuō wǒmen yào gōngzuò 715. Xià sǐ wǒle.
Today my boss joked that we are going to work at 715. Scared me to death.
See our Beyond Class video on working structural overtime, a.k.a. 996, or see our video on 'Scared me to death'.
Internal competition
内卷Nèi juǎn or 'inside examination' was one of the top Chinese online buzzwords this year. 'Nèi juǎn' originally is a scientific term referring to stagnation of social-cultural models… or something. But now many colleague students use '内卷Nèi juǎn' to refer to the irrational competition — like 996, it's kind of an involuntary competition people are sucked into.
An example is the college entrance examination: the number of places for college admission is limited, and parents want their children to go to a good university. So '内卷' is big: Every kid has to prepare for the exam day and night.
Another example is housing prices, which are only going up and up. Sample sentence:
现在没钱的人太难了,自己买不起房子,找不到女友,没有好工作,内卷太严重了。但我没这些烦恼,我没房子没女友也没工作
Xiànzài méi qián de rén tài nánle, zìjǐ mǎi bù qǐ fángzi, zhǎo bù dào nǚyǒu, méiyǒu hǎo gōngzuò, nèijuǎn tài yánzhòng le. Dàn wǒ méi zhèxiē fánnǎo, wǒ méi fángzi méi nǚyǒu yě méi gōngzuò.
It is too difficult for people who have no money now. They can't afford a house, can't find a girlfriend, don't have a good job, and have serious internal problems. But I don't have these troubles, I have no houses, girlfriends and jobs.
Punch-card worker
'打工人Dǎgōng rén' is another Chinese language buzzword that refers to the hard life of working people who work long days. A '工人gōng rén' is basically a low educated worker, usually a migrant worker who works in Shanghai without a hukou. It's a hard life for low pay. Nowadays it's also used for people working with offices — who sometimes have fantastic university degrees, yet are doing brainless work.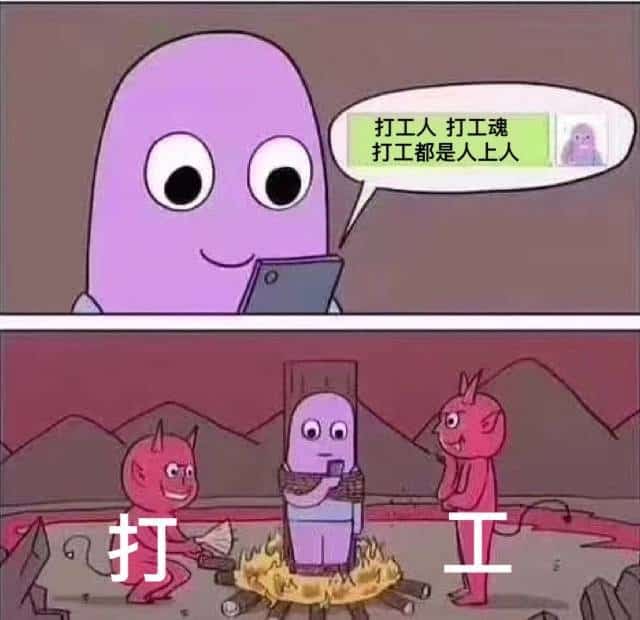 '早安工人' (Good morning workers) used to be a popular topic on Weibo, but now '打工人Dǎgōng rén' has become the slogan of workers from all walks of life. This buzzword is used kinda in a self-mocking but also proud way. People are working hard!
An example paragraph is:
A:张总,最近在忙什么赚大钱的生意呢?
B:赚什么大钱,我就是一个打工人。
A: Zhāng zǒng, zuìjìn zài máng shénme zhuàn dàqián de shēngyì ne?
B: Zhuàn shénme dàqián, wǒ jiùshì yīgè dǎgōng rén.
A: Mr. Zhang, what kind of big-profit business are you working on recently?
B: I didn't make any money, I'm just a punch-card worker.
Most of these jokes about punch-card workers are like this: six points for teasing, three points for self-deprecating, plus one point for absurdity.
See our Chinese listening practice story about moving bricks.
Pull your crotch
拉胯Lā kuà means 'pull your crotch', a buzzword that means you are a bummer or let others down. It's from the North-Eastern dialect.
Example sentence:
大伙都挺给劲儿的,咋到了你这就拉了胯呢。
Dàhuǒ dōu tǐng gěi jìn er de, zǎ dàole nǐ zhè jiù lāle kuà ne.
Everyone is pretty exciting, but when it comes to you, you will pull your crotch.
Sea waves
后浪 is an online Chinese buzzword from Bilibili. 'Sea waves' is a metaphor for the youth of today; they are like sea waves. They come & go and are a lot better than previous generations.
Sample sentence:
我们后浪努力学习,不仅是书籍,而且还有在线视频。 20岁,已经比我的父母聪明!
Wǒmen hòulàng nǔlì xuéxí, bùjǐn shì shūjí, érqiě hái yǒu zàixiàn shìpín. 20 Suì, yǐjīng bǐ wǒ de fùmǔ cōngmíng!
We sea waves study hard, not just books but also online videos. 20 years old, already smarter than my parents!
Overwhelmed
The term "上头Shàngtóu" describes something going to the top of your head, and getting irrationally addicted to something, like food, video games or a particular song you keep playing over and over.
Examples:
学汉语太好玩了,我上头了。
Xué hànyǔ tài hǎowánle, wǒ shàngtóu le.
Learning Chinese is so fun, I'm overwhelmed.
这部电视剧太好看了,很多人都上头了。
Zhè bù diànshìjù tài hǎokànle, hěnduō rén dōu wǒ shàngtóu le.
This TV series is so good that many people are overwhelmed.
我最近嗑这对CP*嗑上头了。
Wǒ zuìjìn kē zhè duì CP* kē wǒ shàngtóu le.
I recently got on this couple.
*CP stands for 'couple pair', a Chinese way to say 'couple'.
Buzzwords from 2019
I'm sour
"我酸了Wǒ suān le" is a self-mocking line that people say when they admire others' good jobs, good partners and good life in general. Often accompanied with images of lemons.
Example:
她老公又帅又聪明又有钱,我酸了。
Tā lǎogōng yòu shuài yòu cōngmíng yòu yǒu qián, wǒ suān le.
Her husband is handsome, smart and rich, I am sour.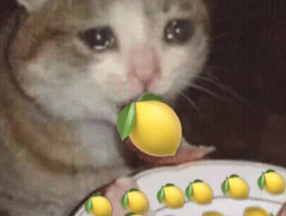 Finger heart
Fresh foreigners in China may think the gesture has something to do with money, but the finger heart ("比心 bǐ xīn") is a sign of love and affection, a favorite among self-takers and friends or colleagues. Although sometimes, it's also misused, as Michael will show you.
In Chinese, it's called a 比心 bǐ xīn: gesture heart. The finger heart was used by a Japanese pop band 'ジャニーズ' in the 60s, and repopularized by South Korean actress Kim Hye-soo in 2010.
I'm too south
南nán(South) is used to replace 难nán(difficult), is another popular line people use to self-mock their difficulties in life: 我太南了Wǒ tài nán le.
Example:
加班到12点,我太南了。Jiābān dào 12 diǎn, wǒ tài nán le. (Overtime until 12 o'clock, I'm too south.)
It's also popular to remake with mahjong: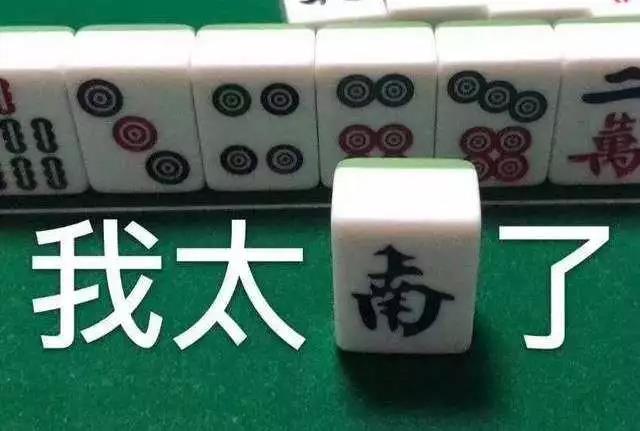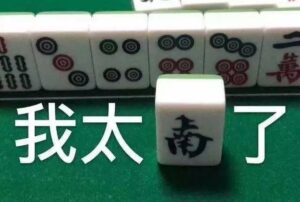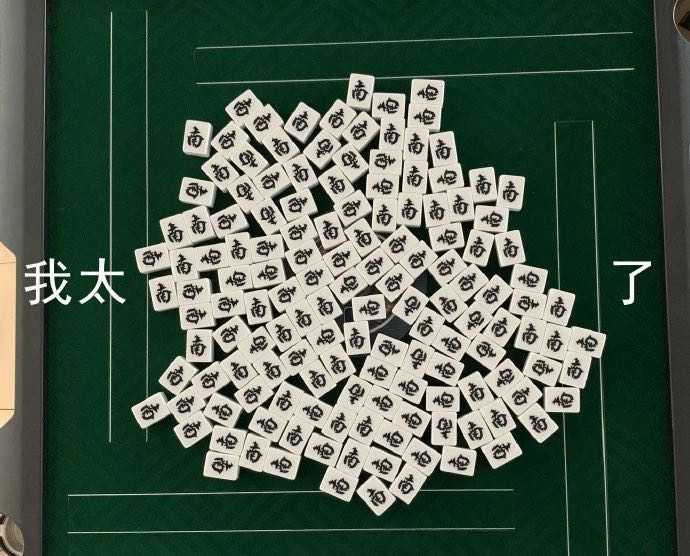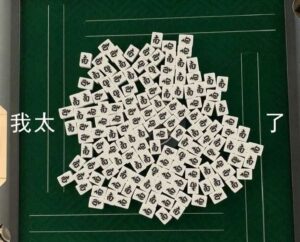 I don't need what you think, I need what I think
This line "我不要你觉得,我要我觉得 Wǒ bùyào nǐ juéde, wǒ yào wǒ juéde" got popular from a reality TV show in China. One of the celebrities in that show was being bossy and dominating, which is a lot against the general public's expectation. He kept saying this line in that show, so people start to use this line to mock arrogant people.
Example:
女朋友:今天晚上我们吃火锅吗?
男朋友:我觉得火锅不太……
女朋友:我不要你觉得,我要我觉得。就吃火锅!
Nǚ péngyou: Jīntiān wǎnshàng wǒmen chī huǒguō ma?
Nán péngyou: Wǒ juédé huǒguō bù tài……
Nǚ péngyou: Wǒ bùyào nǐ juéde, wǒ yào wǒ juéde. Jiù chī huǒguō!
Girlfriend: What about having hot pot tonight?
Boyfriend: I don't think hot pot is good because it's too…
Girlfriend: I don't want you to think, I want me to think, let's eat hot pot!
The year 9102
"9102年Nián" is meaning that it's already in the new century, why are you still so conservative? Like when your grandma asks you to fix your ripped jeans and tells you to drink more hot water. 9102 is used because it's 2019 in reverse.
Examples:
都9102年了,我怎么还是那么穷?
都9102年了,还不多点儿汉语?
Dōu 9102 nián le, wǒ zěnme háishì nàme qióng?
Dōu 9102 nián le, hái bù duō diǎn'r hànyǔ?
It's the year 9102, why am I still so poor?
It's the year 9102, why do I still not speak Chinese?
OMG
In China last year, this English abbreviation became a popular buzzword — spurred on by internet celebrity Li Jiaqi in his Taobao livestreams to persuade people to buy things, such as lipstick. Used to exaggerate the actual function of the products.
Example:
这款口红是如此多姿多彩, OMG买它!
Zhè kuǎn kǒuhóng shì rúcǐ duō zī duōcǎi, OMG mǎi tā!
This lipstick is so colorful, OMG buy it!
Laughing my ass off
"笑死我了 Xiào sǐ wǒ le" is the literal meaning is 'this laugh kills me' (figuratively speaking….), as it's the Chinese version of "LMAO" (laughing my ass off). But as Ellie will show you, this can also be used in a sarcastic way.
Chinese buzzwords from 2018
Buddhist-style
"佛系 fóxì" is the literal translation of this word is "Buddhist-style". The mentality of a Buddhist-style person is: it is what it is. Buddhist-style can be used to describe a person, such as a Buddhist-style youth (佛系青年, fóxì qīngnián), Buddhist-style staff (佛系员工, fóxì yuángōng), etc. This type of person doesn't care a lot about things and always goes with the flow of things. The three words this type of person often says are 可以 kěyǐ (alright), 都行 dōu xíng (it's all OK), 随便 suíbiàn (whatever).
Here is an example:
A: 你今天去哪儿吃饭?
B: 都行。
A: 你女朋友要跟你分手。
B: 可以。
A: 你家着火了。
B: 随便。
A: 你怎么那么佛系。
Nǐ jīntiān qù nǎr chīfàn?
Dōu xíng.
Nǐ nǚ péngyou yào gēn nǐ fēnshǒu.
Kěyǐ.
Nǐ jiā zháohuǒ le.
Suíbàn.
Nǐ zěnme nàme fóxì.
Where are you going to eat today?
It's all OK.
Your girlfriend said to break up with you.
Alright.
Your house is on fire!
Whatever.
How can you be so Buddhist-style?
The family has mineral deposits
"家里有矿 jiā lǐ yǒu kuàng" is the literal translation of this phrase is: a person's family possesses rich mineral deposits. 矿kuàng means mines or ore. Someone who owns a lot of mines (矿kuàng) must be very rich. Therefore, it means that a person is extremely rich. It also means spending a lot of money fast.
For example:
他在上海买了很多房子,我觉得他家里有矿。
Tā zài Shànghǎi mǎi le hěn duō fángzi,wǒ juéde tā jiā lǐ yǒu kuàng.
He bought a lot of houses in Shanghai, I think his family possesses rich mineral deposits.
Cool/chilly
凉凉 liáng liáng is originally the name of a Chinese song which literal translates to "cool" or "chilly". However, here it means that there is no hope for something or that someone is done for.
For example:
明天考试我还没复习,我要凉凉了。
Míngtiān kǎoshì wǒ hái méi fùxí, wǒ yào liángliáng le.
I have not reviewed for the exam tomorrow, I am done for.
Excellent (sarcastic)
Originally, "优秀 yōuxiù" was said that a person is particularly good at learning, working, etc. But now, we often use this word sarcastically.
For example:
优秀,你怎么那么优秀?
Yōuxiù, nǐ zěnme nàme yōuxiù?
Excellent, how good are you?
Delicious
"真香 zhēn xiāng" originally means that something tastes delicious. It comes from a reality TV show. There was a guy from the city who went to the countryside. At first, he disliked being there and said, I would rather starve than eat the food here. But after a few hours he was very hungry and ate a lot. While he was eating, he said, the food tastes delicious.
Now the word means that at first, you don't like something but after you try it, you change your mind… completely.
For example:
我渴死也不喝奶茶。
Wǒ kě sǐ yě bù hē nǎichá.
I'm dying of thirst and I don't drink milk tea.
(After trying it)
算了,真香。
Suànle, zhēnxiāng.
Forget it, it's delicious.