One question that keeps coming back is whether Chinese learners should learn Chinese handwriting. And it's a fair question, because why should you? Most people don't write on paper anymore, at least not daily, and you can just type Pinyin on your phone.
Read more:
Handwriting sometimes gets critiqued
In general, people will say they never write on paper — and handwriting Chinese characters on paper is also sometimes seen as unneccesary. Graded readers publisher Mandarin Companion, on their Facebook, sharply wrote:
"Many learners seem to equate fluency with also being able to handwrite characters. However, handwriting is a separate skill in and of itself and can require just as much time to become "fluent" as it takes to learn Chinese. Sure, learn the basics of handwriting, learn to write some characters to impress your friends, but focus on typing instead. The only times I need to handwrite anything is when filling out a government form in China or writing out my address to give someone.
Why you should learn to handwrite Chinese characters
But handwriting in Chinese and English is completely different, for the main reason English has an alphabet and Chinese uses Hanzi characters.
Some reasons why you should learn Chinese handwriting:
If you want the HSK exam, you must be able to handwrite, either from an example or from memory. Especially on the new HSK exams this is a requirement.
The "cool" factor isn't some useless side of language learning. You are spending hours and hours learning a new language; you are allowed to feel cool.
By far the most important reason is that it helps you memorize Chinese Hanzi characters well, especially when you move into intermediate & advanced territory. Writing characters by hand involves much more areas in the brain than typing Pinyin on a keyboard, this helps memory.
You don't need to be able to write Chinese characters right away. In fact, at GoEast we teach HSK1 and HSK2 first in Pinyin, and after that let students enroll a Hanzi course. This is so students aren't overwhelmed and they become conversational as soon as possible, not crushing their motivation.
Olle Linge from HackingChinese writes:
"One advantage with handwriting over mere recognition is that you have to be more active when you write. Thus, it's easier to focus on character components and their relationships to each other."
Our teachers about why you should do handwriting
Clytie老师:
"Handwriting is definitely helpful for memorizing Hanzi, because it will help you clearly understand the structure of a character. Especially for similar characters, writing them down will help a lot to distinguish them. But I don't think it's necessary to memorize how to write a character, knowing how to write it and trying a little bit is enough. Apps like Skritter, or iPad, or paper, they're all OK. And writing hanzi will help you release stress! It's quite similar to graffiti or something like that (but you won't get arrested!)"
Lily老师 on whether kids should learn handwriting:
"With the development of science and technology, many kids learn Chinese characters without writing them. But in our online Chinese classes for kids, we recommend kids to also handwrite characters, even if they don't write them from memory or beautifully. Chinese characters are fun to learn for children. Chinese characters are full of cultural insight and they are also a form of art. Kids should learn how to write Chinese characters, step by step. Many kids love handwriting, especially when we combine it with drawing. we also prepare the writing form for the kids. They can practice it at home."
Michael老师:
"Input is critical to language learning. Ideally, you use multiple ways. Students shouldn't just read characters, but also write them in order to memorize better, this is just what 'learning by doing' means. While writing a character, we could recognize the details of the shape.
And there are plenty of similar Chinese characters, especially when you reach to intermediate and advanced level. Here're some examples:
Some of them have the same components. Some of them are slightly different in maybe one or two strokes. It's better to write them down so your hand and brain will memorize the difference.
The other difficulty while learning Chinese characters is that the combinations of different characters are so common. Most of the characters could combine with another character to present different meanings. For example, "理解" is a very common word in HSK4. However, "解" could appear in many other words:
和解:héjiě,become reconciled
见解:jiànjiě,opinion
分解:fēnjiě,break down
解释:jiěshì,explain
解答:jiědá,to answer
解读:jiědú,to decode
解雇:jiěgù,to dismiss
So another way to remember "解" is to separate it from "解释", and memorize and write it alone."
Don't just rely on handwriting to memorize characters, also learn about the meaning
But Olle also highlights that on an advanced level, it's also good to learn about to learn the components and the meaning/sound parts of characters.
This sentiment is echoed by our student Edsko on the blog of Outlier Linguistics:
"If I understand the true logic of characters—how they came to be, why they are what they are—learning characters would become a lot easier."
Edsko gives a perfect example of the character 门Mén (door):
"You can explain the presence of 门 "door" in 问 "to ask" as "to ask a question is the door to knowledge". As we'll see shortly, this isn't the "true" (historically/scientifically accurate) role of 门 in 问 (it does not actually mean anything), but you might quite legitimately ask why you should care: as long as it helps you remember the character, isn't that all that matters?"
You get more in trouble when you come across characters such as 闷Mèn (bored),闪shǎn (flash),阅yuè (read) or 闲xián (idle).
Handwriting beautifully is a separate skill
You can focus on writing characters beautifully, but it is good to consider this as a separate skill, much like calligraphy.
Many Chinese people also focus on developing beautiful handwriting to show their personality. You can choose to practice different fonts depending on your preference. For example, people use transparent sheets for this.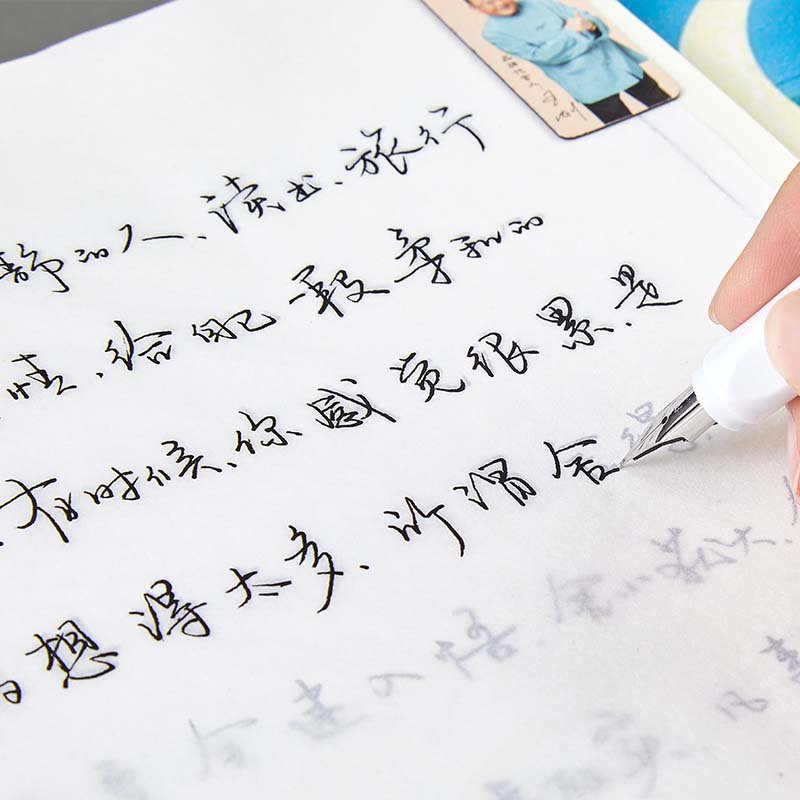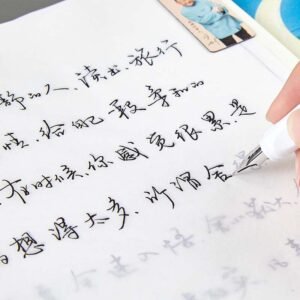 Some tips on how to handwrite
Use a sharp pencil and for left-hand writers one that dries quickly
Use special blocked paper for characters, to better space your characters and write them in a square
Focus on the most important characters. It's ok to be content with that, and type the more rare characters just in Pinyin!
Write a bit every day, rather than a lot of characters at once