— By our student Jaap
From all the graded readers out there, Du Chinese is one of my favorites. It has super high learning value because it combines audio with reading, so it's good for listening and reading practice — and the app is super slick and works better than anything else out there. I studied over 250 lessons with Du Chinese in about two years. Let's look into it in more detail.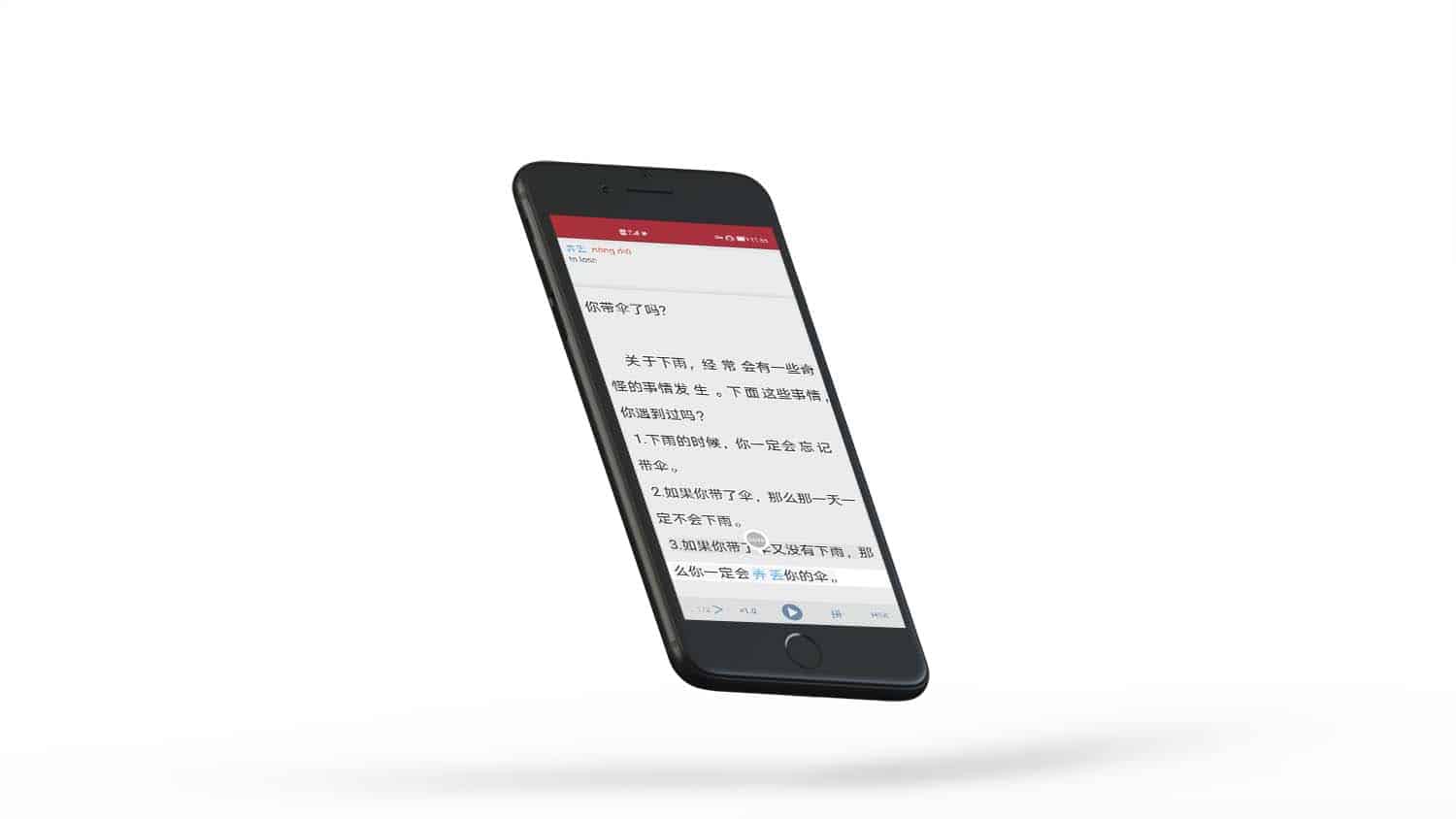 A language is super big and Chinese is no different. Actually Chinese is in some ways bigger than other languages, because of the Hanzi characters. So there needs to be a gentle way into this, especially into reading.
If you try to read Chinese children's stories, you'll find they don't adhere to HSK. So you find many HSK6 or non-HSK words. Having to check the dictionary all the time makes for a tiring experience. Graded readers are specially designed to use only words from the HSK curriculum (hence "graded"). This is perfect for foreigners learning Chinese. Scroll down for three sample stories: Beginner, Elementary & Advanced.
The tech of Du Chinese that excels
The app (and desktop/web version) really combine Chinese listening practice and reading so well. It's all interactive too. You can turn on/off Pinyin, add HSK color codes, and choose traditional or simplified characters. And even increase the audio speed (something which I started doing three years into learning Chinese).
Demo video:
The technology may seem simple at first, so let's list it:
The audio is synced with the text on screen, showing where the narrator is (karaoke style)
Pinyin on mouse-over
English definition on click, not just for a word but the whole sentence too
Hold and drag to save to dictionary for later study
Plus the stories are of high quality. There are almost 1,500 stories in the app. Some stories are long but cut into several chapters so that it's easy to pause in between.
To just mention one small con, the lower-level stories aren't always super gripping. This obviously is a challenge to do with limited vocabulary, but I personally got enough of the many stories about puns. Just let it encourage you to get into intermediate & beyond asap!
Learning vocabulary in context
One of the main critiques I have on flashcards is that you learn vocabulary without context. It's good to learn characters and new words that way, but some people overdo it and still struggle to make a sentence. Not helping their fluency.
The nice thing about Du Chinese, obviously, is that you learn new words (and reinforce existing ones) in a language context. Most stories are also written to use a good rotation of words and sentence structures. Plus, it is also more stimulating than doing flashcards, although I realize I am a bit of a casual learner.
Flashcards!
That said… Du Chinese also has a flashcard function! And actually, I have used it a lot. When you read a story you can press & hold and save words for later review. I've added over 400 words, and usually, I'll open my Du Chinese app and write down the words on paper to memorize them better. The flashcard app works exactly as you'd expect. No thrills, but very functional.
Pricing
You can register Du Chinese for free and try it out. If you want to unlock all stories, you'll have to pay though. One month is 15 USD, whereas a whole year is going to set you back 120 USD. But! You can use the discount code GOEAST for 20% off on any subscription.
Summary
Du Chinese is available on iOS, Android and desktop.
Besides taking classes at GoEast Mandarin, I've used Du Chinese for about two years now, doing 250 stories (so… 2 or 3 a week). I'm not a very disciplined self-learner and yet Du Chinese is a great combination of stimulation + education. It's the tool I recommend the most to fellow GoEast students because it helps you read, listen and speak better (speaking because you hear vocabulary in context, not just on its own). The tech is the best out there and does exactly what it needs to do.
My study progress: