Do you need an HSK test for your visa, company, or just to prove to yourself you've mastered a certain level of Mandarin?
The dates for the official tests in 2020 are now announced by the official government-affiliated organization, the Hanban/Confucius Institute. The tests will take place on the below dates in many cities in China (including Shanghai), as well as certified centers abroad.
How to register for the Chinese exam
Registrations for 2020 will open in the end of November 2019. It's best to register as soon as possible, as seats are limited. For tests on paper you need to register at least a month ahead, for test on a computer about ten days ahead. You can register on chinesetest.cn by clicking 'New User'. From there on you can choose a country, region, city, date and level.
Chinese exams on paper test & computer tests
There are two ways to take the normal HSK test: on paper and using a computer, depending on your preference (especially for writing Hanzi). For both forms, you need to go to a physical location. Even though the translation of '网考' sometimes may suggest it, there is no official online test which you can do from home.
Time & duration of the exam
The exact time of the test on the day depends on your level and location, but all tests are on the Saturdays & Sundays listed below. Test durations range from 40 minutes for HSK1 to 140 minutes for HSK6.
Costs of the exam
Prices range from HSK 1 being 150 RMB to HSK 6 costing you 650 RMB. (For each level, add 100 RMB.)
What score do I need to pass?
You need to have at least 60% of the answers right to pass. This means 120 points out of 200 for HSK 1&2, and 180 out of 300 for HSK3 and above.
Chinese exam results
Results are published online around two weeks after the exam for computer tests, and around four weeks after the exam for paper tests. The official certificate can be sent to you, but you need to request it. (This is possible yet very difficult to do if you've already moved back to your home country!)
---
Got a question? Add GoEast's Lynn on WeChat by scanning the QR here.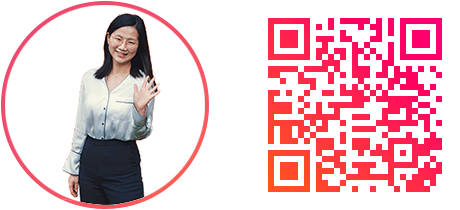 ---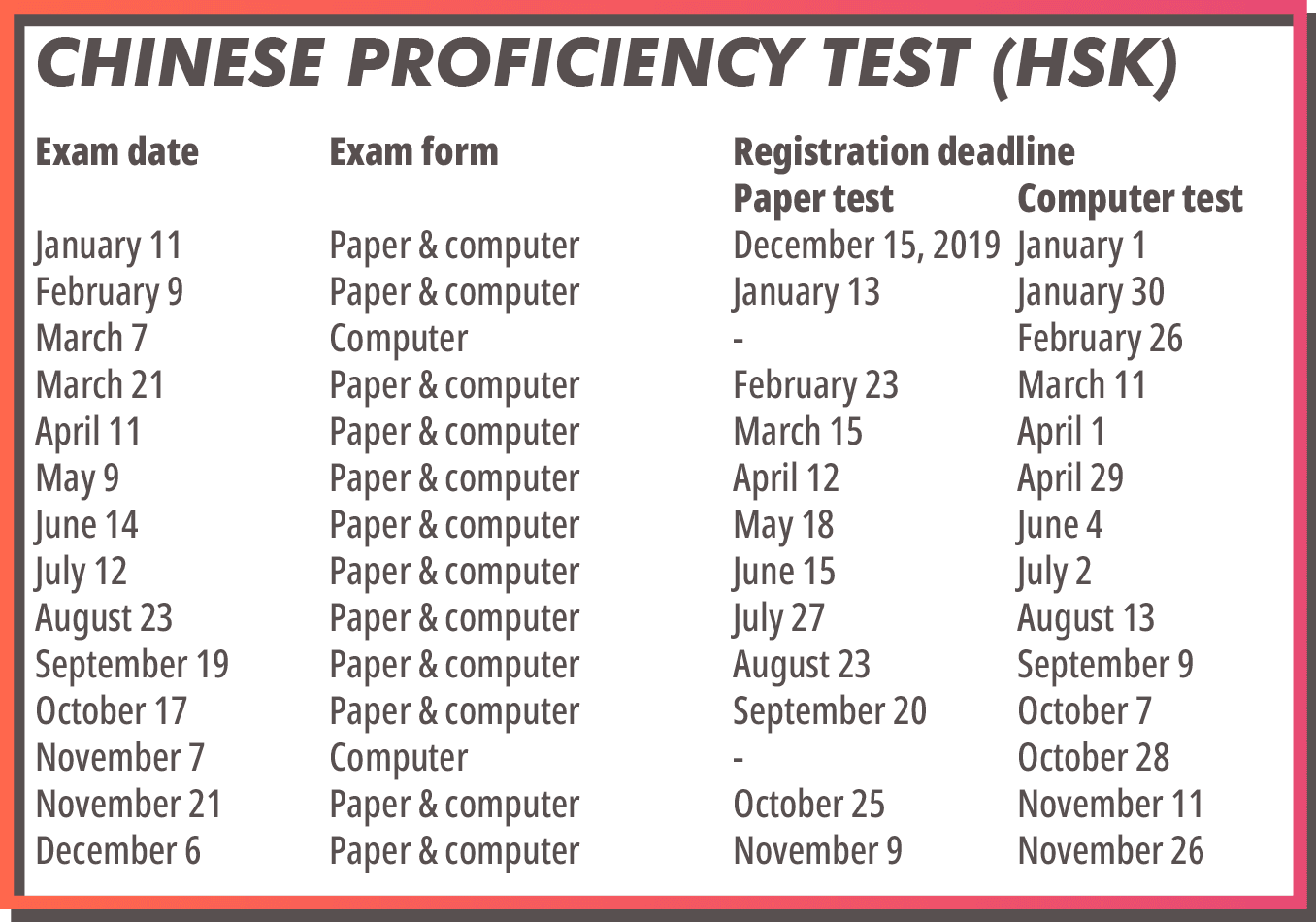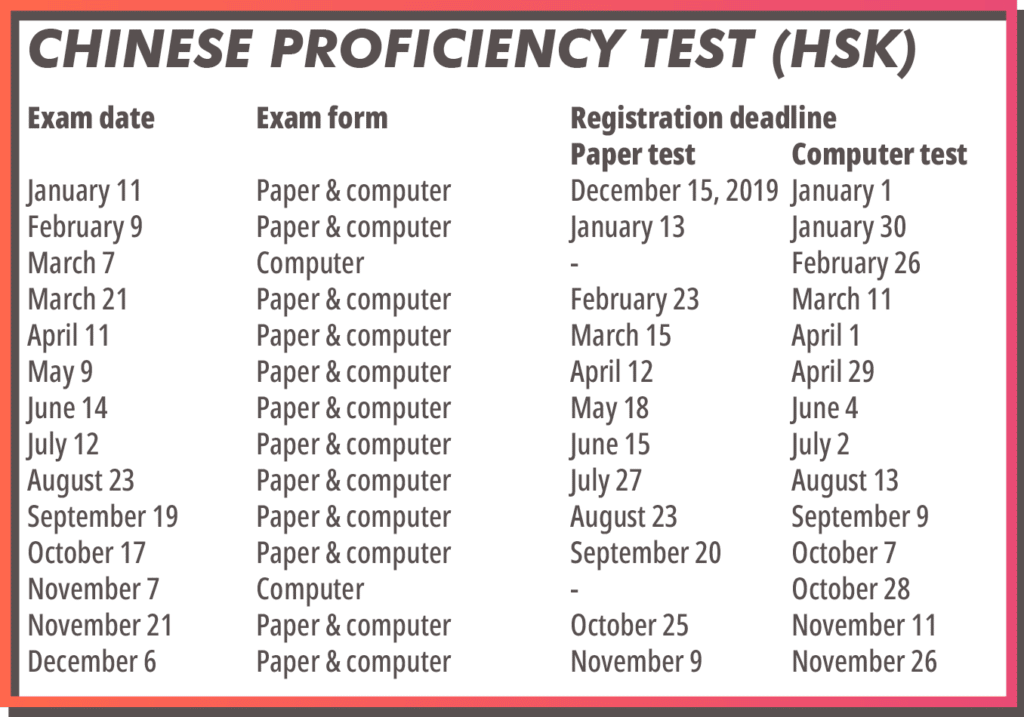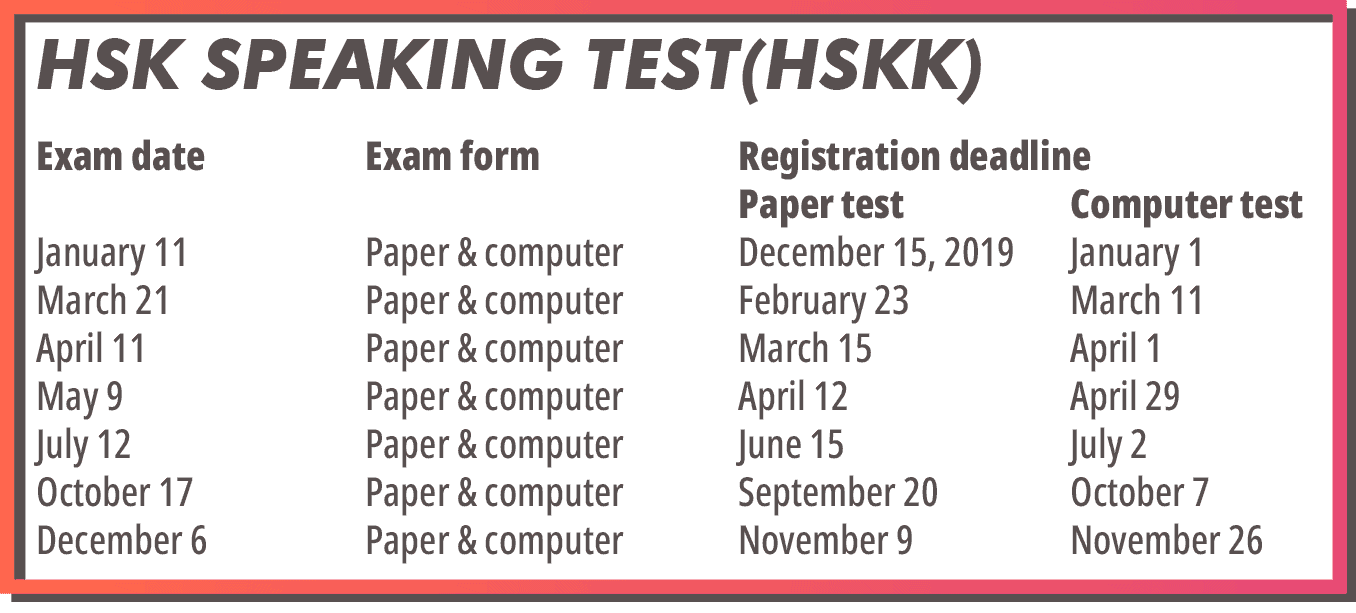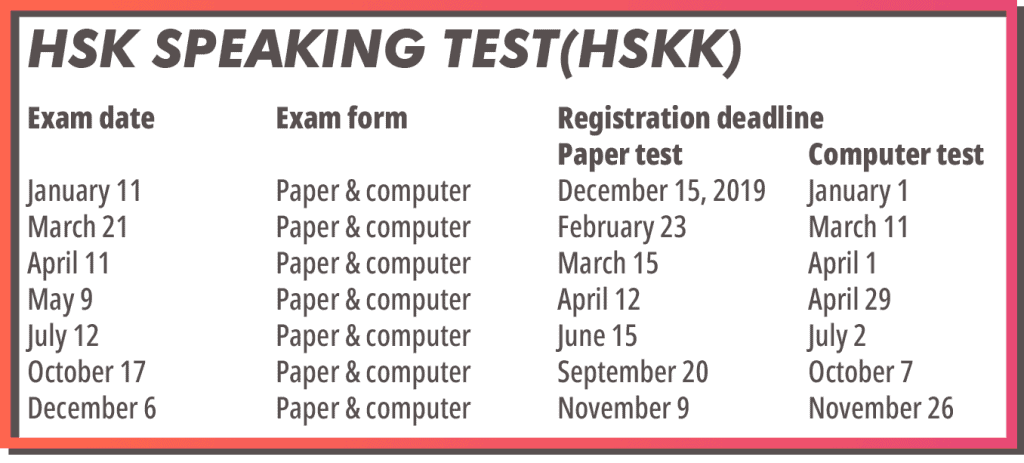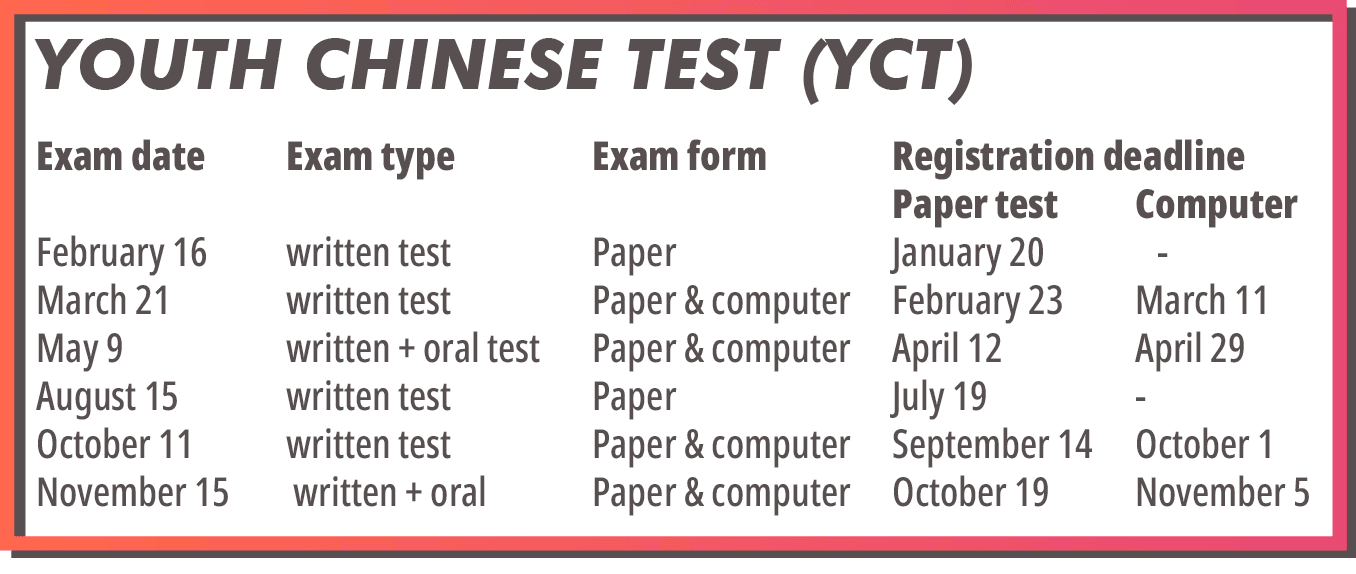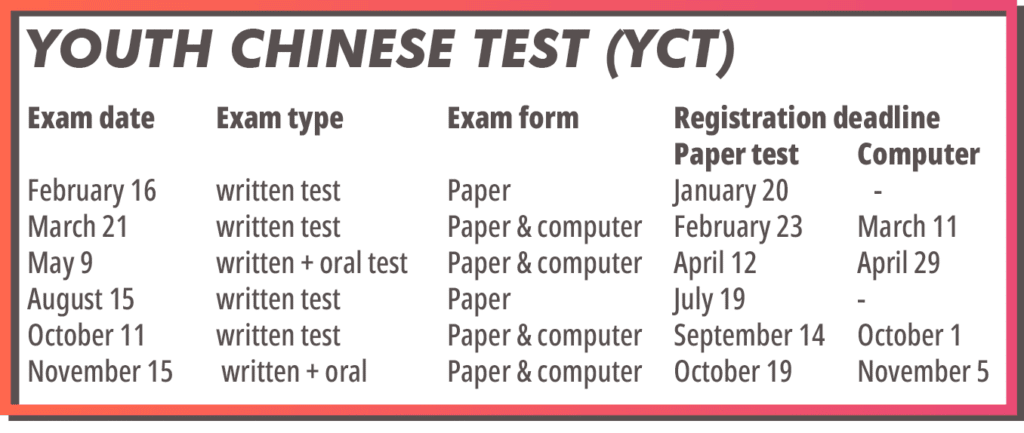 ---
​Which test is for me?
Chinese Proficiency Test (HSK)
The Hànyǔ Shuǐpíng Kǎoshì, or Chinese Proficiency Test, is the international standardized test of Chinese language proficiency for non-native Chinese speakers. It goes from HSK 1 to HSK 6.
HSK Speaking Test (HSKK)
This test assesses the test takers' oral Chinese abilities. HSKK consists of three levels: Primary, Intermediate, and Advanced.
Youth Chinese Test (YCT)
This is an international standardized test of Chinese language proficiency for under 16-year-olds, to assess their abilities to use Chinese as a second language. YCT is divided into writing and speaking tests, which are independent of each other. The writing test consists of four levels, simply 0 to 4, while the speaking test has two: Primary and Intermediate.
Business Chinese Test (BCT)
This is an international standardized test of Chinese language proficiency, to assesses non-native Chinese speakers' abilities to use the Chinese language in real business or common working environments. The writing test consists of two levels, namely, BCT(A) and BCT(B). The oral tests (Oral iBT) and Computer Adaptive Test (CAT) and conducted via Internet.
Prepare by learning Chinese at GoEast in Shanghai
GoEast Language Center is one of Shanghai's premium Mandarin schools. Our teachers and language consultants work together to provide the best experience to every student – whether it's for daily or business Chinese. We also do HSK test preparation, using mock tests to identify areas for improvement. Since 2012, over 90% of our students have renewed their package with us.
Yangpu campus:
上海杨浦区政民路194-196号
No. 194-196 Zhengmin Road
Yangpu District, Shanghai
T +86-021-6512-9300
French Concession campus:
上海徐汇区永福路147弄63号
Lane 147 Yongfu Road, Building 63
Xuhui District, Shanghai
T +86-021-5435-6358
Study hard & good luck!